Plugins play a really important role in a perfect website. We use plugins to get additional functionalities to our website. In this post, we'll share the 10 best WordPress Plugins that will take your website to the next level.
If you're designing a website and your CMS allows limited features, but you wanna go beyond that. Then you'll need a useful plugin to add that specific feature to your website. But today we're talking specifically about Affiliate Marketers.
We're covering almost every category, in which you'll need a plugin whether it's about your website's Security, Speed, SEO, Designing, and so much more.
We'll suggest you some plugins in these categories so you can improve the overall user experience of your website.
The Plugins We've Considered – [Top 10 Picks]
Akismet Anti-Spam
Rankmath
Header & Footer Script
NicheTable
Shortcodes Ultimate
Easy Table of Contents
i2 Pros & Cons
WPS Hide Login
Broken Link Checker
Elementor
These are the plugins, we've picked as the best plugins that you should use on your website. All these plugins are being considered very comprehensively to enhance the quality of your website. So let's dive into the reviews and we'll discuss each of these plugins to show you how these are beneficial for you.
Akismet is an all-in-one spam controller on your website. This is the plugin that will handle spammy comments and form submissions.
It will automatically catch the spammy comments and forms on your site then you can review all the dates manually. It will also detect the spammy and misleading URLs that users submit with their comments or forms.
Akismet is an open-source and free plugin for WordPress. You can install it on your site and just set it up according to your needs.
How to Install:)
In the WordPress dashboard, head over to "Plugins" and click "Add New".
Search for "Akismet" and you'll find the plugin in the WordPress repository.
Install and activate it, and in plugin settings select according to you.
Watch full video:)
2. RankMath | The Best Free SEO Plugin in 2021
When a beginner starts a blog, the crucial is to pick the best SEO plugin. Because it's important to use a reliable plugin for your website's optimization. Millions of people use the Yoast SEO plugin because it's a very established & popular plugin in the SEO industry.
Then comes this new but amazing SEO plugin "RankMath". This is the free and the best plugin that you can use in 2021. Because it provides all those features for free that Yoast SEO provides in its premium version.
Highlighted Features:)
Easy SEO setup wizard
Simple optimization interface
5 targeted keywords option
Schema generator
The Best on-page SEO indicator
Now a question arises, "Do we need a premium plugin?". The answer is no, you don't need to buy the paid version of this plugin. All the necessary features that you need to optimize your post, are available in the free version.
So, this is ideal for beginners and pros + if you're using Yoast SEO on your website. RankMath allows you to import all your SEO settings from Yoast to RankMath. No, let's see how you can install it.
How to Install:)
Install and activate it from the WordPress repository.
Start the wizard and you'll see an option to import Yoast SEO settings.
It provides dozens of settings that you can review manually.
3. Header & Footer Script
Now, this is a bit technical plugin. Let's first understand the concept of this plugin. We usually install a lot of HTML tags on our websites such as Analytics, Search Console, Adsense and so much more.
Here comes this amazing plugin, it helps you install all your codes quickly and easily. It provides two sections. 1st one is Header and the other one is the footer.
Now if you want to insert code to the header section, you can just paste the code in the header box. And if you wanna insert the code to the footer section of your site, you can paste the code in the other section.
Header & Footer Script makes it very easy for you to insert tags into your website. But if you don't use the plugin to add codes, you'll need to insert them manually into the original coding of your site.
Disadvantages of inserting HTML into the original coding.
When you put your HTML tags into the original code of your theme. It'll not be permanent, because if you change your theme anytime, your entire code will be replaced by the new one. This will remove all your HTML tags from the website.
On the other hand, if you install HTML tags through this WordPress plugin, then it is safe because the plugin is always active on your site.
4. NicheTable | The Best Responsive Table Builder
As we talked about before, we've compiled this plugin list specifically for affiliates. So this is an ideal plugin for those who use tables a lot in their posts. NicheTable is the ultimate table builder for WordPress.
You also get some pre-designed tables that you can just import into your post and replace all the data according to you. But you can also build custom tables for your products on custom settings.
A good this of this plugin is, it produces a responsive table for all devices. So, you don't need to worry about responsiveness. Just create your table and it will automatically prepare your table for Tablets or Smartphones.
There are dozens of plugins in the market, but a maximum of those plugins are not responsive which is the worst thing you can do. All contents on your pages should be responsive for all devices.
People access your site through different devices and if your pages are not looking good on any device they are using, you'll lose your potential customers.
5. Shortcodes Ultimate | Design Buttons and more.
Designing a good affiliate page is really important to attract visitors. If you're page boring and simple, you won't be able to convert your visitors to customers.
So, you should use infographics, CTA buttons, etc on your page to generate sales. Shortcode Ultimate provides you with 50+ shortcodes that will take your page to the next level. +This plugin is Classic and Gutenberg ready so if you're using any one of these editors, it will work properly.
This is absolutely free to use, you can download it from the WordPress repository + there is also a premium version of this plugin where you can access all its premium features, add-ons, and extra shortcodes.
6. Easy Table of Contents
The table of contents divides your content into sections and topics. So it becomes very handy for the user to navigate to the different parts of your post. Here comes this plugin called Easy Table of Contents.
This installation and configuration process is really simple. Just install it from the WordPress repository and as soon as you activate this plugin. It will be applied to all of your articles. Just go to its setting and adjust it according to your needs.
It provides dozens of options that you can use, if you just want to add it to your post no pages, you can do it from the settings and so much more. + This is also a good SEO practice because it is giving ease to the visitors that google likes.
7. i2 Pros & Cons | Design Pros & Cons Section
When we talk about affiliate or promotional content, pros, and cons is the obvious thing that we consider in our reviews. But it's important to present the pros and cons of the product in a right and nice way.
The "i2 Pros & Cons" is the best plugin to add a stylish pros and cons section to your article. If you put them in a simple list block, they won't attract your visitors. But if you use a proper colorful drop-down section, it'll look good on your page.
The is an ideal plugin, especially for affiliates who promote and review a lot of products on their site. Just install it on your WordPress website and set it up according to your needs. You can choose different colors for pros and cons + also pick your desired icon.
8. WPS Hide Login | The Best Security Plugin
Although WordPress is a secure CMS, we do need some extra plugins to protect our website's privacy. So here is the masterpiece WPS Hide Login, one of the best security plugins for WordPress.
I see most of the people using 2 steps verification login on their site, but those plugins are really complex to use. So, I was searching for a good alternative plugin for login issues when I found this plugin.
Basically, when we launch our site on WordPress, the default login URL is "yoursite.com/wp-admin". With this plugin, you can change this URL and set a custom login URL. If you use a custom login URL, you don't need any 2 steps verification on your site.
Just install this plugin and you will see a new option in the settings menu in WordPress. Go there and enter the custom URL that you wanna use to access your site and it will be applied.
9. Broken Link Checker
After some time, every website generates some broken links. Like if you delete some of your unwanted pages from your site, those links will be considered as broken links that you should remove.
Broken Link Checker helps you remove them quickly and easily. You can install it on WordPress and tweak some settings. It will automatically detect broken links on your site and inform you in your WordPress dashboard.
Then you can manually review them and delete them if you want. This is really important if you're running a big site or you've multiple pages. You can set the timer that when this plugin should send you the report of broken links.
10. Elementor
Now last but not least, Elementor is the most popular & powerful WordPress page builder. This is ideal for broader niche websites because use usually designs a separate home page and different pages for brand niche sites.
So, this is the all-in-one page builder which is absolutely free and simple to use. They provide beautiful ready-to-use templates, you can just import and customize them for your content.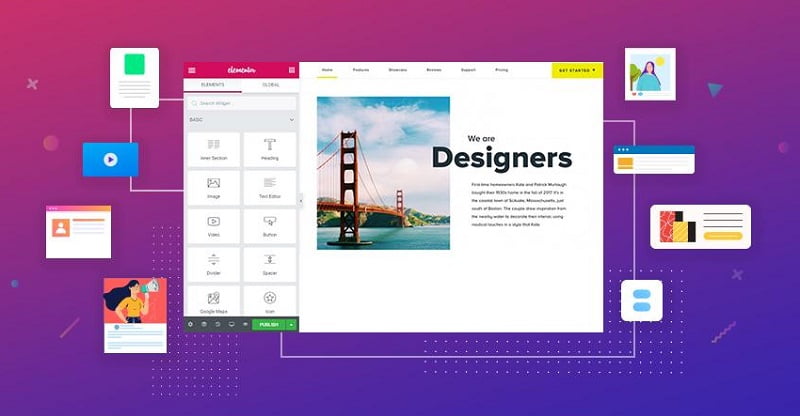 There are dozens of page builders available in the market, but Elementor has its own place, it's a well-established and reliable option for beginners. Install it from the WordPress plugins section and you can start designing pages on your site.
When you add a new page in WordPress, you'll see an option at the top called "Edit with Elementor" You can click on that to design the page in Elementor. It provides you with dozens of blocks and sections.
Elementor offers their premium version as well, where you'll get Advanced Web Creation options + extra premium pre-designed templates. It's not necessary to get their paid version, and if you're a beginner, the free version is ideal for you.
Wordict | Best WordPress Plugins for Amazon Affiliates
These were our picks for the best WordPress plugins for Amazon affiliates. We tried to present some best options for you to improve your blogging experience.
And if you're an affiliate blogger, these plugins will help you a lot. we included plugins for all categories such as design, SEO, security, and more. Hope this guide helped you and if did, make sure to leave your comments below.
Cheers!