Almost all markets in the world are experiencing digitalization which has compelled companies to produce creative content in order to attract customers. Everything from product description to the details of the feature has to be crafted in a manner that appeals to the readers. A good product would not sell as much as a bad product with a catchy description.
Hence, companies have to rely on content writers to come up with content for them. It can be a challenging task as first it is not easy to find a great writer and second, it is quite expensive.
However, fortunately, the technology has evolved in this market as well and there are AI tools that can write the content for you. You just have to provide them with the topic and a few details about it and the AI will create as much content as you need.
Furthermore, it would craft the content at a speed no human can match. The content would also be unique which will prevent copyright strikers.
After ClosersCopy's recent updates, they've added a new feature called Drafts, that you can use to create your article within a few clicks. You just need to put all the subheadings and topics you wanna create content for, and Schedule your Draft. Your content will be ready in a matter of minutes.
We would be discussing one such tool which is highly popular and has received tons of positive reviews. It is Closercopy, a powerful AI tool that can meet the demands of all industries. So, let's find out more about its features, pros, cons, and the users that it is suitable for in this Closerscopy Review.
What is Closerscopy Ai?
Closerscopy is an AI writer that has a huge library of templates that can be used to create content for businesses and websites. It is targeted at both beginners and professionals who work in copywriting industries and write content for Google Ads, Facebook Ads, blogs, and sales letters among other things.
The content generated by the Closerscopy is free of plagiarism and can be posted on any website without fearing copyright strikes. Marketing agencies, PR companies, content writers, and all the businesses that are linked with content creation can benefit from it.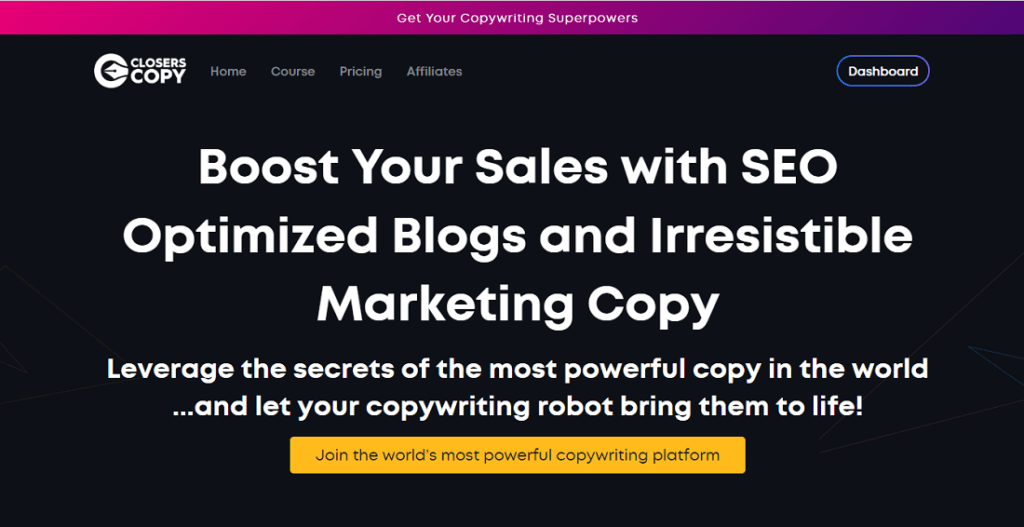 Marketing agencies can come up with creative catchy phrases about the product to catch the attention of potential customers.
Writers can use it to assist while writing content for their clients. Oftentimes, our minds get stuck and even excessive brainstorming does not lead anywhere.
Closerscopy can prevent such brain jams as it comes up with hundreds of ideas the moment users enter the topic. You can take any of the available ideas and refine it as per the demands of your clients.
Businesses can use it to create content without having to hire professional content creators. You can create blogs, product descriptions, and even reviews of products to appeal to customers. Businesses will save tons of capital that would otherwise go into hiring the writers and can use that to invest in some more product areas, i.e., marketing and manufacturing.
How Does It Work?
Closerscopy is based on AI and the latest machine learning technologies including GPT-3 to improve and accelerate the writing process. GPT-3 was developed by OpenAI which is an AI research facility located in San Francisco.
This breakthrough was widely appreciated in the industry as it has the potential to automate tasks which can be beneficial for companies in a number of ways.
The AI can detect all the texts and comes up with information that is suitable for that in order to create content. For example, if you have typed in shoes, it will come up with all the information that is available on the internet to go with the written text.
The capability of AI to screen the internet for relevant topics is beyond human capabilities. It can read and understand the texts on hundreds of websites simultaneously and learn them to create something unique.
Furthermore, the system is even capable of creating content in different moods. You can change it to formal, informal, or even casual depending on the needs of your website and the business. The text generated via GPT-3 cannot be differentiated from the human-written text which is an important breakthrough.
It is mainly because the AI does not come up with the content on its own. It analyzes thousands of scripts available on the internet that are written by humans to come up with new content.
Since the AI learns from human-written content, it comes up with writing that resembles that of a human. It should be assured for users who are worried that readers might find out that content is created via AI.
Moreover, GTP-3, as is indicated in the name, is the third and latest generation of this technology that is being developed at OpenAI.
The facility is working to improve it even more which means users should expect upgrades that can take things to the next level. It is also quite possible that a newer technology replaces it and produces even better results.
So, the point is closer copy is based on a very sophisticated technology that has spent years in development. And the best part? The technology will only improve in the coming years.
Benefits and Disadvantages of Closerscopy- Closerscopy Review
Let's take a brief look at the benefits and disadvantages of the closercopy before exploring more details.
Pros
Closerscopy lifetime deal is available which means users have to purchase it once and use it for the lifetime.
Based on GTP-3 but has its own proprietary technologies included in it as well.
Three different AI algorithms to create multiple types of content.
Plethora of built-in templates
A very handy wizard tool
Supports more than 120 languages
Rich library of templates
Drag and drop feature increase convenience
Can be used to write on multiple niches
Uses the latest deep learning skills
Cons
Certain templates are more prone to bugs so users have to keep close on eye on it while generating content
User-Interface can be difficult to understand for beginners
Does not have its own grammar or plagiarism tool
Very basic insight function
Low-priced plans are limited by characters instead of words which means it creates less content than its competitors at the same price.
Who Developed Closerscopy? – Closerscopy Review
One of the major reasons for the success of Closerscopy is that it was created by Nico Engler who himself is an expert copywriter. The developer has extensive experience of content creation which means he understands what it takes to generate appealing content. Hence, all the features on Closerscopy are tailored for the different industries.
Features – Closerscopy AI review
Users get a plethora of features with Closerscopy. We cannot go into the details of each one of them but the following are the most important and useful features.
1. Equipped With Powerful AI
The first and most notable feature of the Closerscopy is that it is based on AI. Being based on AI means the editor has another set of eyes and minds to look at the generated content. The AI ensures that content is plagiarism-free, creative and compelling enough to appeal to the readers.
You can feed the already written content to the AI and it will come up with a number of variations. Best part? Each of these variations will be unique which means users can post it on multiple websites. This can play an important role in SEO optimization. You can create multiple websites and link them with the main site to improve the ranking on search engines.
Furthermore, the AI can also identify unnecessary words and allow the users to delete them. Human writers have their own writing styles and often write sentences that might seem easy to read to them but not to the readers.
It is typically because unnecessary words are written in the sentence which makes it difficult to read. However, with the elimination system users can work around it and improve the readability of content.
That said, users have to be mindful that AI does not always make the right suggestion. It still has a lot to learn so be careful while you're eliminating the words because sometimes it can make the sentence even more difficult to read.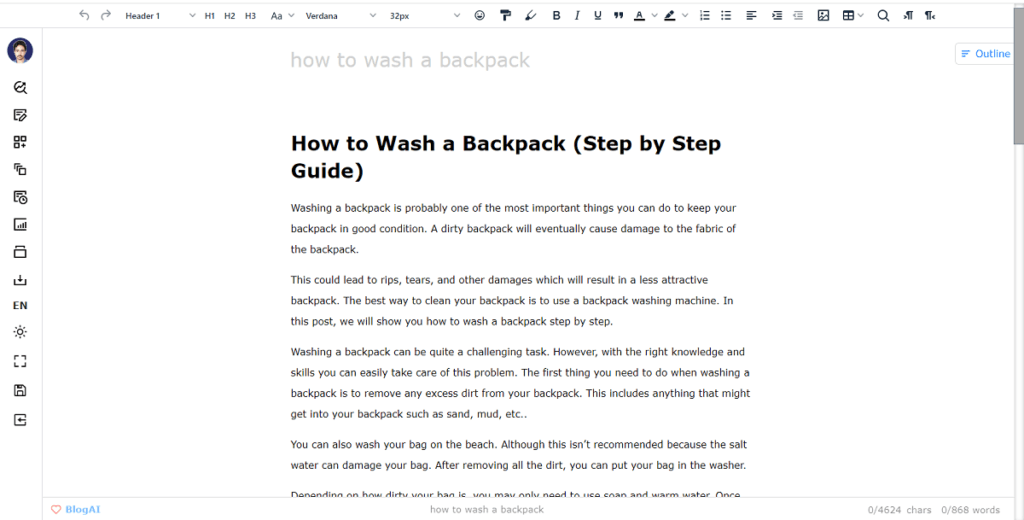 2. Drag and Drop Model
Compared with AI writing tools, Closerscopy has the most user-friendly model. It features a smooth drag-and-drop builder which simplifies the writing and allows users to mix and match headlines. You can then drag and drop them into the pages to use as the sales copy.
That said, the builder will require some basic information in order to produce results. The builder can ask about the problem, and desired outcomes and then comes up with an appropriate solution. Let's explain it with an example.
You want to write a piece on weight gain. The problem in the piece is unwanted weight gain and the desired outcome is to reduce weight. Closerscopy will provide the users with solutions such as changes in diet, supplements, and exercise.
Mind you that AI does not come up with the solution on its own. It screens the web for the potential solution and writes the content accordingly.
Furthermore, the AI writer can also write in different tones depending on the niches and their audiences. You can select the tone from the settings and provide an idea for it and the application will generate the content exactly how you desire.
That said, the content is not always right and sometimes some sentences do not make even the slightest bit of sense. Hence, users will have to proofread the content before posting it to blogs or business websites.
3. Template Library
The template library is another feature that sets Closerscopy apart from the competition. It has one of the most extensive libraries of templates that include everything from Facebook ads to the landing pages of websites.
The templates take the convenience to another level as users do not have much left to edit. You just have to provide a little bit of information to the application and it will generate content exactly how you want.
Furthermore, it is not that users have to use the template exactly for what it is designed for. You can take a template that seems most suitable and edit it to customize the content as per your requirements. The company also adds new templates to the library regularly so users always have new designs to play with.
4. Step-by-Step Wizard
The User-Interface of the Closerscopy is probably the most criticized aspect. The criticism is just to some extent as it is not easy for beginners to understand these features. However, the Step-by-Step wizard offers a workaround by guiding the users at every step.
When the users are working on Closerscopy, the application will provide detailed suggestions and guides about the different features. The platform will suggest creative words that can be used and the information to format the copy as per the client's requirements.
Furthermore, it highlights mistakes in the content which lets the users know about the parts that need editing and improvement. The wizard also guides about the different features and when they can be used which makes things simpler for beginners.
5. 18,000+ Examples
Closercopy also provides a rich library of examples of content that can be created by using the application. You can check the example to get new ideas, and inspiration and to know about different writing styles. The library has more than 18,000 examples in several niches including Facebook and Google Ads. So, it not just saves time but also brings creativity to your ideas.
6. Emotional Analysis
Emotions are just as important in our writings as they are in verbal speech. You have to bring emotions into the text to keep the readers engaged. However, every niche demands different emotions. You cannot write content on medicine and be casual about it. Similarly, if you are explaining a product that is fun, the writing cannot be too formal.
When a human is writing content, his/her own mood also plays a part in writing. However, that mood does not always go well with the content that is being crafted. It warrants the use of emotional analysis to detect whether the mood of writing is exactly what the content demands.
Closerscopy has a built-in emotional analysis feature that lets the user know about the tone of the content. It helps you to ensure that the tone matches the intended message. Furthermore, users can also explore Thesaurus Lookup to come up with a vocabulary to go with the tone of writing.
As the AI understands emotions, it creates headlines accordingly. You just have to click the headline generator and the platform would come up with a catchy sentence to make the headline. It generates multiple headlines and users have the choice to pick which they deem most suitable for the content.
7. Copy Spam Analysis
One of the most infuriating things for marketers is deliverability. Nothing annoys more than when appealing content lands in the spam box of customers. It renders the entire marketing campaign useless as potential customers do not even receive the message. Fortunately, Closerscopy offers a solution to this as well. It analyzes the copy and lets the users know whether the email will be marked as spam.
AI does that by analyzing some words in the content. For example, Gmail and Yahoo flag the email if it contains words like "make money". The platform will highlight such words which will let you change them to ensure the deliverability of the email.
8. Content Sentence Analysis
The length of sentences play an important role in determining the readability of the content. Longer sentences are associated with the loss in engagement which make the readers lose interest in the content. Hence, it is recommended by several guides to use smaller sentences in order to improve the overall readability of content.
Closerscopy has a built-in content sentence analysis as well. It breaks down the complex sentences into small and simpler ones. This improves the readability of content and keeps the readers engaged with it.
9. Megatron
Megatron is the latest addition into the closerscopy features. It was designed to produce long-from content like blogs and amazon affiliate articles. You can use this feature by opening the interface and selecting "Megatron" from the toolbar. A new window will open which lets the users compose their outline and write the content on the trending topics. The platform gets the data on trending topics from the searches on the different engines.
You just have to enter the query and the MEGATRON will conduct the search for you. The platform will also suggest 5-20 headings along with hundreds of subheadings that users can pick from. You also have the liberty to outline the content by removing the headlines that are not appropriate and expand those that you like.
As the users hit compose, the platform will write up to 500 characters per heading and about 3,000 characters per piece in one run. The speed to generate content at such a high speed is certainly commendable. Once the platform has written 3,000 characters, the MEGATRON can also refine the content for you. You can find this by right clicking on the context menu.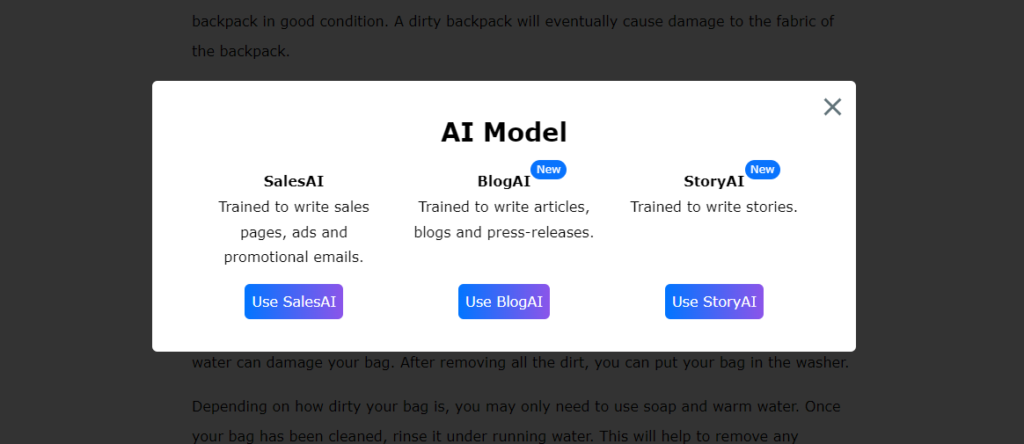 ClosersCopy Ai work on 3 deferent Ai Models such as Sales Ai, Blog Ai, and Story Ai. You can use Sales Ai to write sales letters and sales copy. And if you gonna write a blog post and website content you can switch your Ai model to Blog Ai which works amazingly.
Users will get the following options:
Expand
It will expand the content based on the context that you have highlighted. For example, if you're writing on weight loss the possible content options can be exercise, diet and medications. Highlighting the exercise will produce more content on exercise while ignoring the other two. You would get types of exercises, how to do these exercises, benefits of exercise, etc.
Rephrase
Rephrase can be used when the users like the essence of the content but are not satisfied with the wording and sentence structure. Clicking on rephrasing will change the sentence structure and tone of the content while maintaining the essence of the content.
Summarize
Summarize features can be used to put the entire content into a nutshell. It can be used to create small posts for Facebook, conclusions for blogs and to compose emails. The feature compresses the long-content into just a few sentences. Summary is comprehensive and does not miss the important information that is written in content. That said, it might add some very difficult words which can be difficult to understand by non-native English speakers. So, just be mindful about that.
Lengthen
Word count is also an important criterion in the ranking of websites on the search engines. Sometimes, it is required to increase the word count in order to make the website appear on the top searches. You can either fluff it up by unnecessary information or let the AI lengthen it for you. This feature will increase the word count while maintaining the tone, words and phrases of the article.
Furthermore, the feature is supported on 24 languages including but not limited to:
English
Chinese
Dutch
Czech
Bulgarian
German
Italian
Russian
Swedish
Spanish
Polish
Pricing – Closerscopy AI Review
Closerscopy offers four plans and each of them has varying features, hence priced differently as well. Let's take a look at them: But, most popular is their lifetime deal, which is a bit expensive but obviously paying one-time is much better than paying every month or year. You can check our ClosersCopy Lifetime below:
Power Plan
The power plant is the most basic plan that users can avail of at $49.99. The plan offers:
300 AI runs per month
50 SEO Audits
Limited updates
Two user profiles
SEO planner
Longform editor
Frameworks (700+)
Workflows
Insights
Email support
Community of 12K+ members
This plan is suitable for users who do not write too much long-form content like blogs and affiliate articles. It has a limited number of characters that users can generate in each month hence generating blogs can exhaust the limit. However, those who want to create product descriptions, short reviews, and emails would find this ideal. The templates update on a regular basis even in this plan.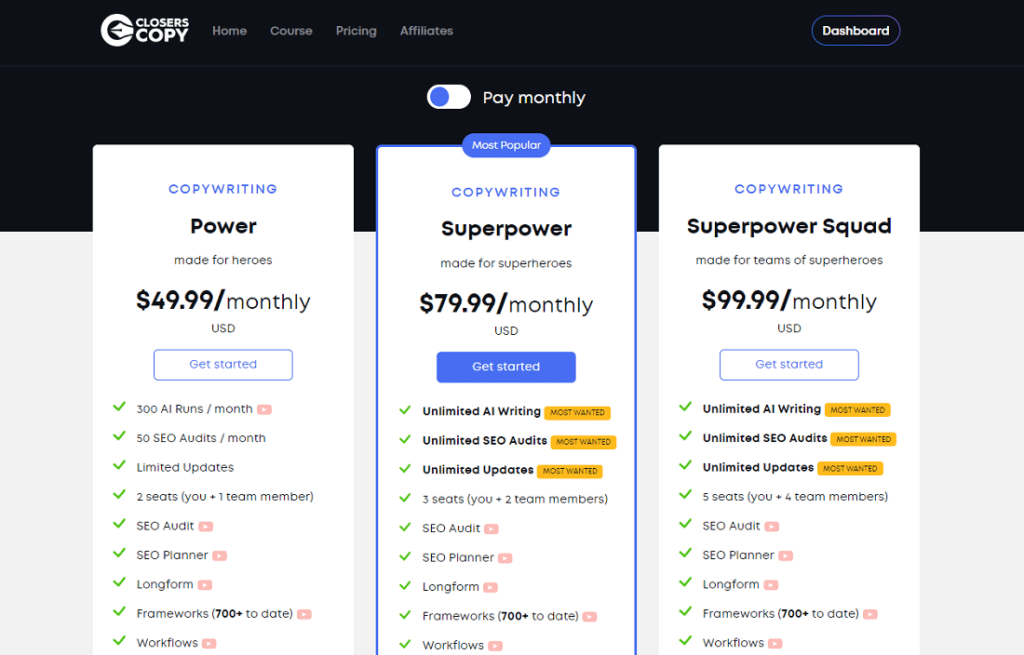 Superpower Plan
A superpower plan is an extensive version of the power plan which is priced at $79.99 and includes all the features of the latter in addition to:
Unlimited SEO Audits
Unlimited Updates
Unlimited AI Writing
3 user profiles
The biggest advantage of this plan is unlimited AI writing and SEO audits. It also makes this plan versatile and suitable for a wider audience. If you own multiple websites and cannot afford to hire professional content writers for the articles, this plan might be ideal for you.
You can generate an unlimited number of articles using AI and post them on multiple websites. This will be far cheaper and more effective than hiring a professional content writer.
Superpower Squad Plan
Superpower Squad Plan is priced at $99.99 and it offers all the features of the Superpower plan in addition to 5 seats. There is not much difference between the superpower and superpower squad as the features are more or less the same.
You will only pay extra just for extra users' profiles. So, unless you do not have a dedicated team working to create content, this is not an ideal purchase.
3 users' profiles are more than enough to create content for multiple websites. You can craft hundreds of pages in just a day which is enough to keep the websites updated.
Closerscopy Lifetime Deal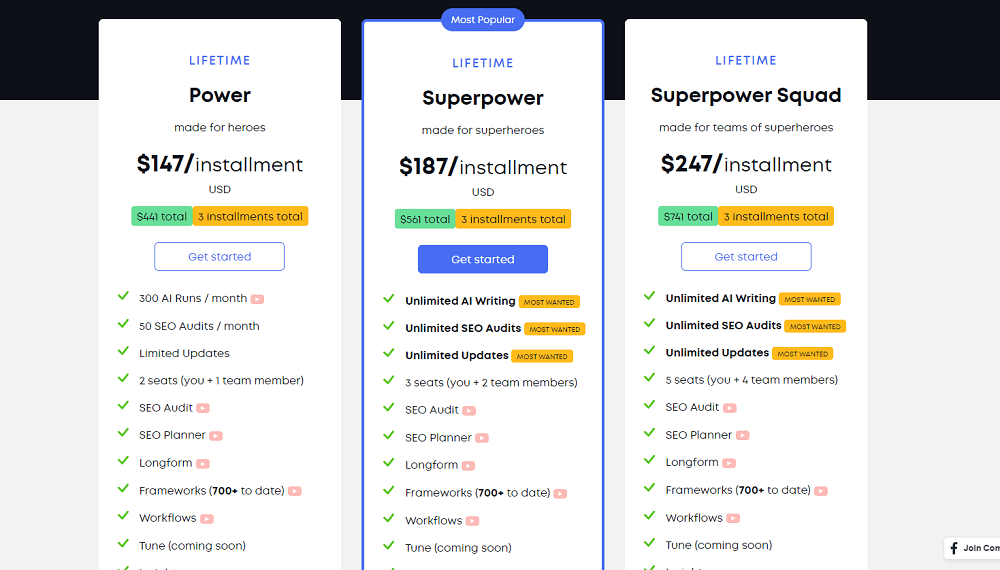 Closerscopy lifetime deal is probably the most reasonable as users have to purchase it once and can use it for the rest of their lives. You can avail of the lifetime deals of all the three previously mentioned plans. Power, Superpower, and Superpower Squad are priced at $387, $497, and $697. Users will have certain upsell deals with the Power plan but no upsells would ever be marketed to the Superpower and Superpower Squad users.
We recommend users get the superpower deal because it is the most effective and offers the best value for money. You would have unlimited access to creation content throughout your life. Users that are skeptical about these plans can always try their monthly plan first. If it feels suitable then one can proceed to purchase the lifetime deal. However, it is better to decide as soon as possible because the lifetime deal is far more affordable compared to monthly deals.
Should You Purchase Closerscopy? – Closerscopy Review
Now that our readers are familiar with the features, benefits, cons, and pricing of the Closerscopy, the pressing question is whether one should subscribe to this platform.
Well, there is no straightforward answer to it. Even the most basic plan of Closerscopy is not cheap and users that have just started their website would not be able to afford it.
Furthermore, even though the platform is very quick in creating content, it is not as reliable as professional content writers. Artificial Intelligence has come a long way but it still needs improvement in order to become as critical as human beings.
AI creates content by analyzing other already published pieces on the internet. As of now, it cannot differentiate if the information available in the published articles is right. Developers would have to improve the critical and analyzing skills of AI significantly in order to compete with humans in that regard.
That said, the Closerscopy would be an excellent addition to the gear of those who are fairly established. You can use human writers and Closerscopy simultaneously to maintain a decent balance. This will cut down the cost of content writing significantly but you would still need a competent professional for proofreading.
So, people who are working in marketing would find it an appealing platform. It can get those professionals out of a brain jam when brainstorming does not yield the required results. Professional content writers can also use this to get out of situations when they get stuck while writing on a topic.
However, online retailers can take maximum advantage of this application. Such businessmen can use the platform to create product descriptions. It would not even require professionals for proofreading as there are not many details that can go unnoticed in this type of content.
Furthermore, the platform also provides SEO analytics which can benefit online retail owners as well. The information on SEO can be used to modify the product description in order to make the products appear on the top searches. Just think of it as a one-time investment that the business needs at the time of its foundation. It will significantly cut down the future cost of the business.
FAQs – Closerscopy Review
What Will Closerscopy Do For Me?
Closerscopy can write all sorts of content for you. It can write blogs, product descriptions, and Facebook, and Google Ads among many other things. You can also use it to analyze the SEO of the page and use those analytics to rank the website higher on search results.
Do You Need Prior Knowledge To Use Closerscopy?
No, the features of closerscopy are self-explanatory and users also have wizards to help them along the way. You would know exactly what each feature is used for and how it can be used to create the content that you want. 
What Differentiates ClosersCopy From Other AI-Writing Tools?
Closerscopy was developed by an expert copywriter and managed by the sales force. The management understands the demand from their platform and continuously works to improve the features. Furthermore, it has one of the most rich libraries of templates and examples of content which can be used to make content even more creative.
Does Closercopy Receive Regular Updates?
Yes, even the most basic plan of the Closerscopy receives regular updates from the developers. The number of updates get higher as you move to the plans of higher tiers. 
Conclusion – Closerscopy Review
So folks, there you have it, everything there is to know about Closerscopy. In a nutshell, it is one of the most powerful AI writing tools that can be used to create a variety of content.
The platform caters to a wide audience and has received plenty of good reviews. We hope this closerscopy review was helpful. If there is anything you want to ask or add let us know in the given section. We would love to respond. Thank you!