WordHero is one of the top-rated AI writing tools that can write blog articles, social media captions, ads, emails, product descriptions and even sales copy ina matter of minutes. You can also use it to generate content ideas, startup marketing and to write lyrics and poetry for music.
The tool is first of its kind and powered by revolutionary AI based on OpenAI/GTP-3 API. It not only saves time but also the money that is otherwise paid to the content writers.
It certainly is not an alternative to the human content writers but an excellent tool to get the job done. Furthermore, as the AI is improving it is guaranteed that WordHero will only get better. This makes it a must-have tool for individuals that run blog sites, marketing agencies, social media managers and article writers.
There are times when even very experienced writers are stuck on the idea and despite repeated brainstorming, nothing seems to work. WordHero offers the solution because all you have to do is throw a topic and it will come up with something.
You can take it from there or allow it to generate whole content for you. So, let's talk more about this revolutionary tool in this WordHero Review.
Pros and Cons of WorldHero – WordHero Review
Pros
Simple interface
More features are added on regular basis
Generates content in matter of minutes
No limit on the amount of content
Inexpensive than human writers
Improves writing
Can generate poetry and lyrics for music
Cons
Takes a bit long to generate content than other writers
Makes some mistakes in certain areas.
How Does It Work? – WordHero Review
WordHero is based on artificial intelligence which combines large sets of data with iterative and intelligent processing algorithms and learns from the data and patterns that are provided to it.
In simple terms, AI works as a human brain, it understands patterns, retains them, and uses it to help humans. WordHero uses the same principle but in better and more advanced manners.
It is based on OpenAI/GTP-3 API also known as third generation Generative Pre-trained Transformer. The AI essentially works like a neural network and uses the data available on the internet to generate a variety of texts for its users.
Basically, it works exactly like human content writers. You assign it a topic, it searches for that on the internet and comes up with usable content for you. The difference? It delivers the results quickly and costs much less than human content writers.
Furthermore, a human can only browse a specific number of web pages and content before writing a sentence for the content. Whereas, WordHero can analyze hundreds of pages at once and use the information on them to come up with unique content.
It is almost scary that no human can match the efficiency of this IA writer when it comes to analyzing data from the web. The task that can otherwise take multiple hours can be carried out with WordHero in the matter of minutes.
Who Should Use WordHero? – WordHero AI Review
Short answer? Everyone who is linked with the industry of content writing in one way or another can and should benefit from WordHero. It is beneficial for a broad spectrum of professionals including digital media markets, content writers, and affiliate website owners. However, certain individuals might find it more beneficial than others and those are:
Marketers
Marketers have to come up with all sorts of ideas to promote or launch a campaign. It is a taxing task to say the least and one that needs a lot of brainstorming. Even if there are multiple professionals working on it, there is no guarantee that an idea would be shortlisted. Frankly, it is not anybody's fault because humans have a limited creative and intellectual power.
However, this is not the case with AI powered tools. It has virtually unlimited powers, one that can not be matched with humans. You just have to throw a topic to WordHero and it would come up with hundreds of ideas. Even if the ideas are not of your liking, the option to change the tone is always there. You just have to switch it to the right mode and it will get the job done for you.
Once you have the ideas, you can brainstorm on them but if you do not have enough time, WordHero has got you covered there as well.
Business Owners
Running a business is a full time job. You can either focus on the actual services/products that you are offering or on the marketing of the business. It is best to hire marketing professionals but if the business is new and there are not enough resources to hire manpower, WordHero can get the job done.
You just have to take a few minutes from the routine and enter the idea that you want to market. It will come up with a number of quirky scripts which can be posted on business's website and social media accounts to attract more customers.
YouTubers
All the YouTuber will admit that writing the description can sometimes get harder than actually producing the video. It can be frustrating to not be able to come up with something compelling that goes with the video.
Fortunately, WordHero takes care of that. You just have to enter the concept of video and it will come up with a well-written, compelling and attractive description for you.
Hence, instead of spending time to think and come up with the right description, YouTubers can use that to produce another video.
Furthermore, it can also be used to come up with ideas for the videos. At times one is unsure about the topic that should be discussed or the subtopics are not known. You can use WordHero during these times to learn new ideas for the videos.
eCommerce Store Owners
An online product is just as good as its description for potential buyers. If the product is not properly described, the customer will lose interest no matter how great the item is.
Hence, most eCommerce owners hire professional content writers to write product descriptions for them. It increases the cost of business which ultimately increases the prices and makes the products expensive for customers.
By using WordHero AI, you can cut down those costs and use those savings to provide discounts. This will help the business to grow.
WordHero AI Review – The Benefits on Offer
We're sure by now you are at least familiar with the benefits that WordHero AI can offer. But for the sake of comprehensive understanding, let's explain them further.
Minimize Your Writing Time
An average content writer spends about 2-3 hours to come up with a 1000 words long piece. Furthermore, there is no guarantee if the writer would submit the piece in time. But with the WordHero AI, users can get the same piece in just under a few minutes. You do not even have to wait with uncertainty if the writer would return the project on time.
Improves The Writing
WordHero provides feedback and suggestions when the users are writing content on it. It points out the mistakes and lets the writer know about them. Consequently, the writing style of the writer improves. Furthermore, the AI does all the research which means writers can focus only on writing. Hence, with more time on hand the produced content will be better and more appealing to the readers.
Gets More Traffic
Getting traffic on the website is linked with search engine optimization. And the SEO is directly affected by the number of keywords and their placing. An ordinary writer can add only so many keywords before making the content look stuffed. Whereas, WordHero does not have these limitations. You can set the number of keywords that have to be placed in the piece and it will get the job done.
The content would not look stuffed and would be optimized for SEO. It means that when someone will search for a topic related to your piece, the website would appear in the top searches.
Saves Money
An average content writer takes about 15-20$ for an hour-long work. And in this time, even the best of writers can only write a 1000 words long piece. This is quite expensive, especially when you compare it with the WordHero AI. With this tool, users can write many more words at a very affordable price.
Plagiarism-Free Content
Content generated by WordHero AI writers is free of plagiarism. You do not have to spend extra to purchase applications like Grammarly and other paid plagiarism checkers. Post it to your blogs, websites and guest posts without worrying about the strikes from other users.
Grammatically Correct
First generation of the AI writers struggled with the grammar but fortunately, this is not the case with WordHero AI writers. All the content that it writes is grammatically accurate and easy to read. You would not have users pointing out the grammatical errors in the comment section.
New Features Are Added Regularly
The best part of AI is that it is improving by every passing day. New features are being added which are making its performance even more efficient. So, if you have purchased the subscription, it is guaranteed that the performance will only increase.
Supports 20+ Languages
WordHero has a unique standing in the AI writer market because of its ability to detect 20 languages. You can use the available language which makes it easy to understand for those that do not have English as their native language. It is especially important for business owners who have to market their product international but do not have command over the language.
WordHero Lifetime Access
With most AI writers, users have to pay a monthly or annual subscription fee that can increase anytime. But with WordHero, once the users subscribe to the package, the prices are locked. It means users have to pay the same price to use the budget AI writer for the rest of their lives.
Now take this into account and imagine the amount that could be saved and can be used to improve some other aspect of the business. For most people, this benefit alone can be compelling enough to make the purchase.
How To Use WordHero AI Writer – Simple Steps
WordHero offers an intuitive but user-friendly interface. You do not have to navigate too much to find the options that you are looking for. Follow the mentioned steps to generate the content:
Step 1: Log-in To WordHero
Open the WordHero and enter the credentials which include username and password.
Step 2: Access The WordHero Home Screen
In order to generate the content, users will have to access the home screen. You can do it by clicking the WordHero logo at the upper left corner of the screen.
Step 3: Choose The Template
In the dashboard, there will be an option to choose the template. You have to pick which is most suitable for the type of content that is to be generated. There are about 60 templates to pick from which include but are not limited to Google Ad, Quora responses, advertising, listicles and blogs.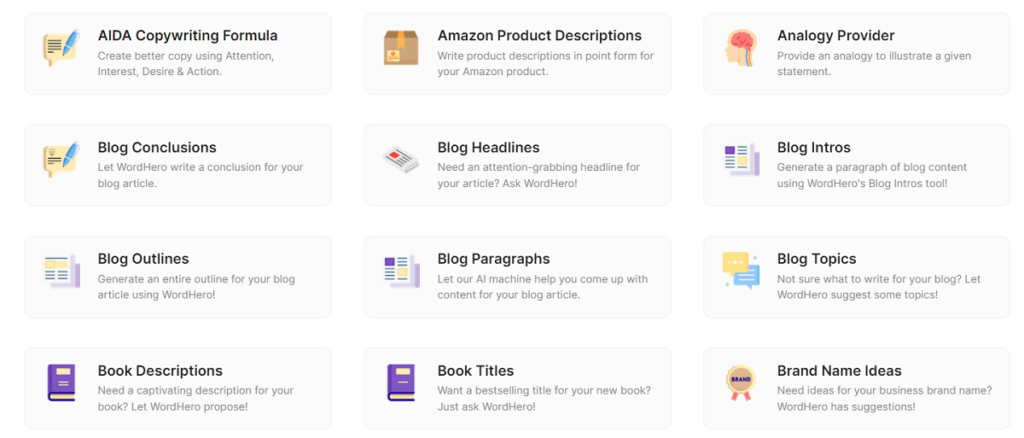 Once you have selected the right template, users can proceed to the next step.
Step 4: Input Data
When the template is selected, users have to provide some data related to the topic that has to be written. It can include some information, keywords, and shorter description of products. The more data you add, the better content WordHero will deliver.
Step 5: Generate Content
When all the necessary information is provided to the platform, all that is left is to click on generate content. The first click will generate a couple of sentences. Check those for grammar and the accuracy of information and repeat the process.
You can also instruct the AI to generate content in a particular tone. These include attention, interest, desire and action.
Long-Form WordHero Editor – How Well Does It Work?
Besides the 60+ templates, WordHero also offers a long-form editor which we might add is one of the leading in industry. It can be used to generate long articles and blog posts. Best part? You can access all the templates within this mode to make the content more creative and appealing.
Template mode offers all the tools to create content but the long-form mode takes things to a whole nether level. You can access the long-form editor by clicking on the "editor" button on the header. The interface of this mode is very simple and has self-explanatory features.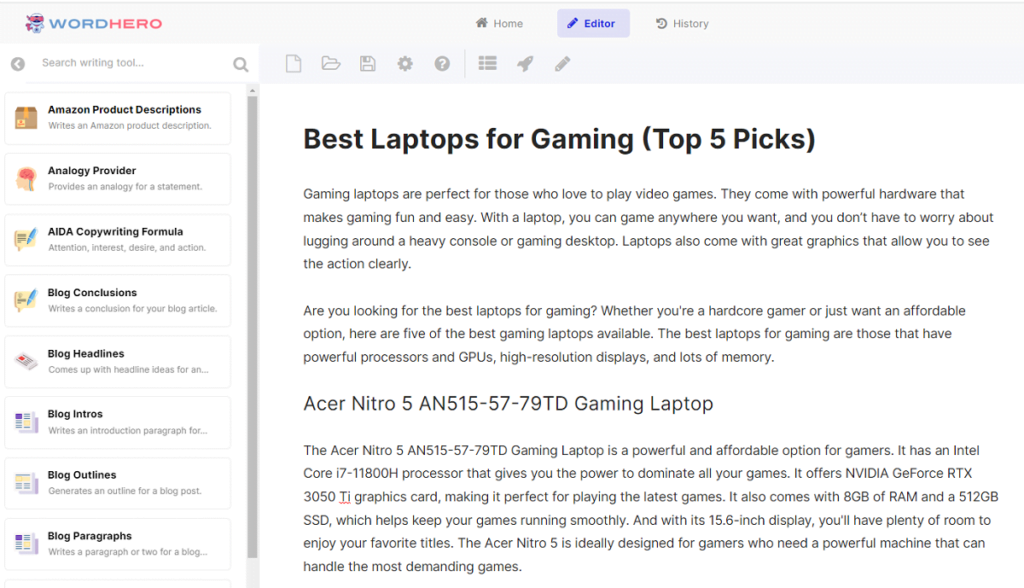 There are two main sections, writing tools on the left side and AI assistant on the right. It will serve best to the individual who wants to take help from AI but does not want to totally rely on it. You can write on the left side but when a brain freeze hits, simply add the keywords and let the AI assistant take it off from you there.
Few important buttons that users should know about are blog outline, blog paragraph and write more. Blog outline creates a layout based on the provided topic, paragraph creates content based on available information and more continues to write without modifying the selected text.
Some Important Templates – Budget AI Writer Review
We cannot go into details of all 60 templates that are offered by Wordhero AI writers but let's talk about some of the most important and effective ones.
Product Description
This template will craft the best description for the products on your eCommerce website. You can use this template for social media posts, ads and website copy. The template needs a product name and a short description. Make sure to enter the information in point forms to get better results.
The template will generate three different pieces of content. You can pick the one that is most appropriate and use it on the website. To refine it even more, a long-form editor can also be used.
Analogy Provider
Analogy Provider as the name indicates generates a comparison of the entered statement. It can be used when users have a rough statement in their head which is not compelling enough to be posted online. You can enter it in the tool and the AI will generate the same statement just in a better way that could be used anywhere. This tool provides two results for each query.
Explain It To A Child
Explain It To A Child feature is to improve the readability of the content. This will be most beneficial to those that operate in regions where English is not the native language. You can use it to generate quora answers to ensure it is understandable by a wider audience. Users only have to provide a short description of the answer and the AI will simplify it for you.
Features, Benefits and Advantages
This template serves the best to users that are marketing for a product. You have to enter the name of the product followed by key details that are separated by commas to generate long paragraphs on the benefits. The AI will generate two results, select the one which is accurate.
That said, there are some shortcomings in this template and the AI might add some benefits that are not related to the product. However, you can delete those lines and use the remaining content for the websites.
About Us
The About Us section is one of the most generic but an important part of the website. It needs to be unique and there is only so much that a human content writer can think. However, WordHero will come up with exclusive lines everytime users click on "write for me". You also have the option to like or dislike the results in order to improve the future content that will be generated by AI.
Pricing of WordHero AI Writer – WordHero Review
By now, the benefits and the features offered by WordHero should be cleared. So, let's talk about how much it will cost you. First, you've a great opportunity to Grab WordHero Lifetime Deal, because currently the lifetime deal it's live on Appsumo. So, you can get it at an affordable price for lifetime but you need to pay some extra money to unlock the longform editor, after you redeem your purchase.
On the other hands, if you wanna get WordHero on monthly subscriptions, there are two plans that users can choose from. Monthly subscription costs $49 and the annual subscription is priced at $348.
Hence, users can save $248 with annual subscription. You can also purchase monthly subscription to try it out first and cancel it to purchase annual one if the AI writer meets your demands.
Features on both plans are the same which include 24/7 priority support, access to all writing tools, unlimited content generation and 108 languages. To be honest, the asking price is not too high given the benefits one can avail from it. You do not have to use it for complete content generation, just use it as an assistant and witness it improve your productivity.
Conclusion – WordHero Review
WorldHero AI writer is one of the most versatile writing tools that money can buy. It offers tools that can cater to a wide audience ranging from content creators to business owners.
Not many AI tools offer unlimited content generation with access to all tools. Pricing of the tool is affordable too which is another plus point. So, if you are trying to find a solution for content generation, WordHero is an appealing option.
We have tried to keep this piece simple but comprehensive to ensure our readers are able to make informed decisions. But if there is anything that has been missed or left unanswered, please let us know in the given section of WordHero Review. We would love to respond. Thanks!
FAQs – WordHero Review
Do I need to buy Longform separately?
Yes, when you grab a lifetime deal, the longform editor will be locked. You'll need to buy Longform separately.
Can I generate unlimited words in WordHero lifetime deal?
Yes, WordHero offers you generate unlimited words in a lifetime deal.
Does longform comes with a one-time payment?
Yes, after getting a lifetime deal, you just need to pay once for a longform Editor. And you can use it for lifetime.
Is WordHero better than Jasper Ai
On a budget point of view, WordHero is definitely better than Jasper because its affordable and offers unlimited words + quality of the content is also impressive.