This is a list compiled with the Best WordPress Themes for SAAS. Software as a Service business model is getting more and more popular. You're here for the best themes for your SAAS website.
Alright, in this guide, we've picked out the best SAAS Themes for your WordPress site and why they're the bests in the business. Though there are tons of different WordPress themes available.
But all of those are not for all purposes. It depends on the type and the niche of the website. As we're walking about the SAAS themes, we've put our best and enlisted some of the best SAAS WordPress theme options for you.
We've considered all the major factors that a perfect theme should have. Such as Responsiveness for all the devices, design and feel, simplicity to customize, etc.
We've included the themes for every budget, browse our top picks in the table below and let's review each of these themes.
Top 5 Picks (Best WordPress Themes for SAAS)
1. Sala – Best and Affordable Startups and SAAS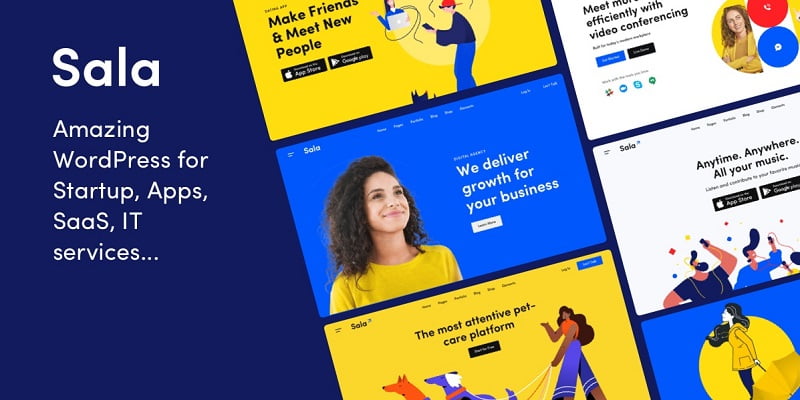 Let's start with an affordable one, Sala. This is an excellent theme that offers 27+ unique demos and sites that are pre-designed. You can just import one of these and boom. You're good to go with your new site.
Just customize the data and images according to you, that's all. It's perfect for startups and Software as a service businesses. You can get it on Themeforest at a very affordable price.
Its pre-designed sites or demos are perfect for your SAAS website. You get dark or light options with multiple styles and look to choose from. With this theme, you'll be able to set up your website quickly and easily. This is probably the best WordPress theme for saas on a budget.
Sala is 100% responsive and by the end of the customization, you'll have a beautifully functional website. Compatible with all the major WordPress plugins such as Elementor, WooCommerce, and Mailchimp.
2. Sassico – Ultimate SaaS WordPress Theme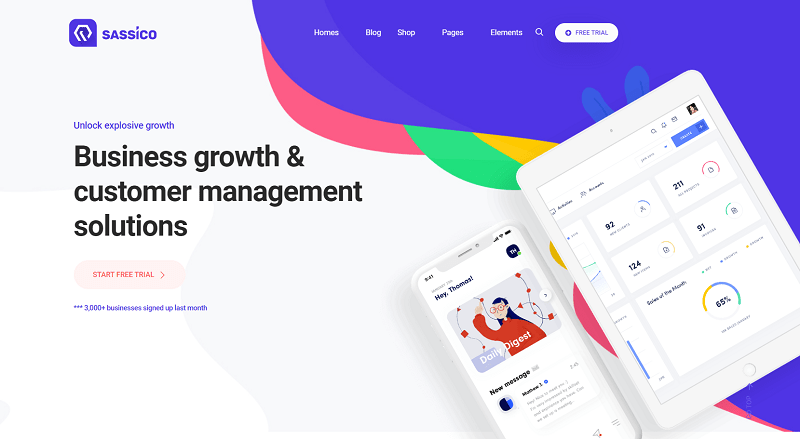 Sassico is the ultimate solution for SaaS websites. It comes with 19 engaging Home page designs to choose from. Offering 200+ UI blocks that will take your site to the next level, and you can use them just by drag and drop.
You can maintain the best page speed with the Sassico theme and it's the best-selling SaaS WordPress theme with a 4.8/5 rating. So, If you're starting a business, software, or service, feel free to check this theme out.
As soon as you install this theme on your site, you'll have access to its demo sites that you can install in a single click. Everything is fully customizable with drag and drop. You get a separate Header and Footer builder to make it your own.
To create a mega menu, you get a mega menu builder for a better browsing experience. Sassico is WooCommerce-ready and responsive for all devices.
Its design gives your site a clean and trendy look that will hook your visitors for leads and sales. So, it's the ultimate solution for services, apps, and corporate websites.
3. Gigas – Specialist WordPress Theme for SaaS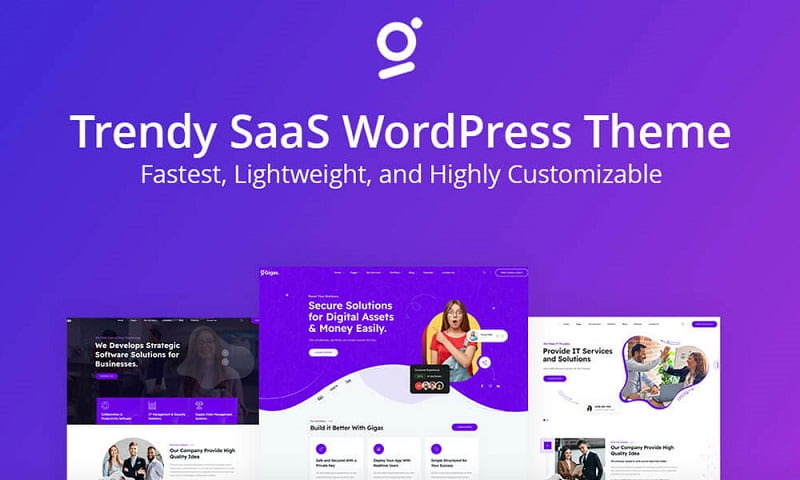 Gigas is the theme Ideally designed for SaaS websites. Because it's made for a single purpose, it doesn't come with multiple demos. You'll get an ideal look and feel of your SaaS website. If you're on a budget and want a reliable theme, Gigas is the option for you.
I've checked its layout, and it's absolutely spot-on for a Software as a Service website. With an eye-catching Home page, top navigation, and a call to action button at the top.
You can place your company's transparent logo in a perfect size. You can display your product's features on the front with awesome animation images, pricing plans, graphs, and more.
You can add your top client's logos and design a beautiful custom footer. At an affordable price, I would say this is one of the best WordPress themes for SaaS.
4. Zaap – Affordable Option for SaaS and Apps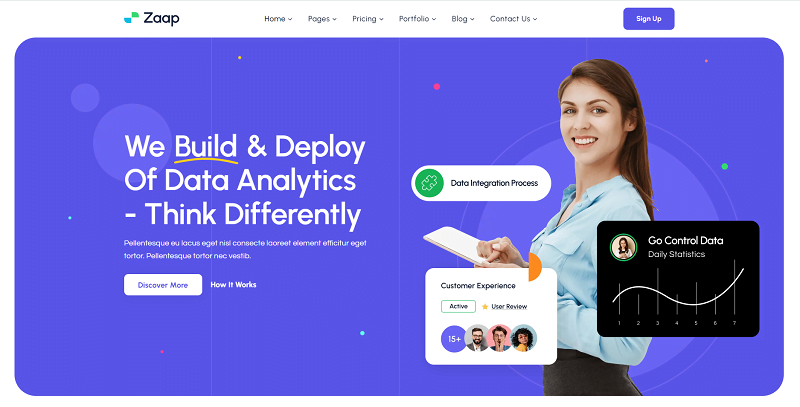 Zaap is an excellent and affordable WordPress theme for Apps and Software as a service websites. It offers stunning design to feature an app or service on your site. You'll get 12+ pre-built demos and you can pick your choice.
I would highly recommend you just check out its demos, you'll be amazed to see the features, design, and feel of the site you're gonna make. If you're planning to launch the software as a service, or app, this is gonna blow your mind.
It's a super fast and responsive WordPress theme for Startups and businesses. Specially designed for these types of sites and you can build your SaaS website.
Zaap Theme Features
Let's talk about its top features and pros. As a highlight, it comes with 15+ amazing design elements and drags and drops Elementor page builder.
Like when you'll install one of the demos, Your site will be ready and you can customize the data using Elementor's simple-to-operate editor. These are just highlights, you can explore its features on the page.
So, considering all of its features, I strongly recommend this Zaap Theme if you're on a tight budget. It contains everything you need to create an awesome Service as a Software website.
5. Scalo – Top Notch SaaS WordPress Theme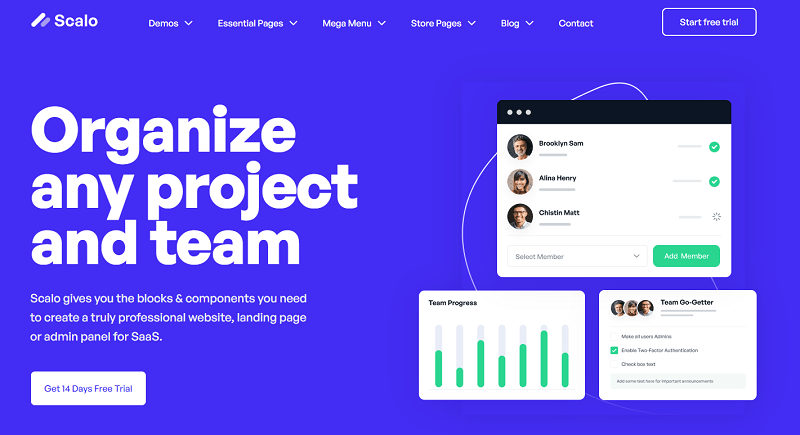 Scalo is a top Notch WordPress theme for Applications, Services, and Software. It offers a phenomenal design perfect for SaaS websites. With a minimal homepage design where you can mention the key features and ratings of your services.
You'll also get Pre-made demos that you can install with one 1-Click. All the demos are designed professionally keeping the purpose of the site in mind.
Now, let's talk about the features I love about Scalo Theme. You can import the complete demo sites, but the best part is you can also install demos without importing dummy data, pretty cool right?
This will reduce your efforts of deleting dummy content from your site after putting your own. You can install the data on your existing site and be done.
Apart from that, you get 96+ Block collections and 12+ pre-designed demo sites. So, let's wrap it up if want a top-quality WordPress theme with the best features, Scalo is the best WordPress theme for SaaS.
6. SaaSLand – Top Selling SaaS WordPress Theme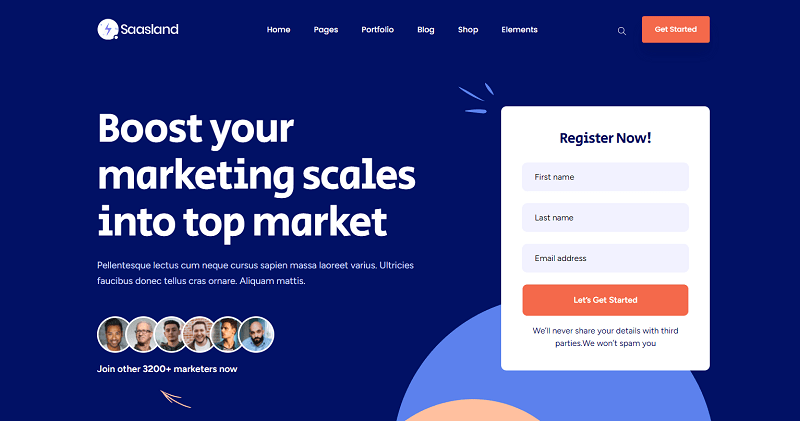 As you can judge by the Theme name, It's designed for SaaS websites. For the introduction, It's the top-selling SaaS WordPress theme with over 8000+ sales on Themeforest. The features this theme offers make it a multipurpose theme.
Compatible with the latest version of WordPress, Gutenberg, WooCommerce, and more. SaaSLand offers 56+ amazing demos. Over 8K Companies and businesses rate it 4.8/5 which is insane.
Its design, reliability, and design quality forced me to rank it as one of the best WordPress themes for SaaS. So, people are just loving it for their SaaS websites.
It offers multiple header templates, so you can use the header you love. Create professional mega menus for a strong Silo Structure. You can add animated icons anywhere with ease and give your user an immersive experience with dark mode.
Inner pages of the Saasland e.g Services, About, Contact, are stunning and well designed. Enjoy 500+ predesigned elements you can use by drag and drop. So, it's an excellent WordPress theme for SaaS websites.
7. CleverSoft – Best for Business & Services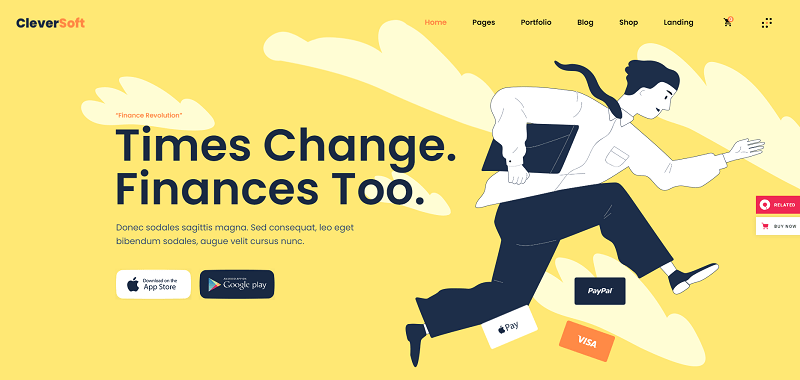 Cleversoft is a new but very impressive WordPress theme for businesses and services with over 100 sales. And people are loving it because of its top features.
With Conversoft theme, you can even launch your own Hosting company, app, or other services. It comes with tons of different features such as stunning landing page layouts, Slider revolutions, and more.
Cleversoft is easy to set up with 35+ practical shortcodes, drag and drop builder, and modern trending layouts and pages. Inner pages are attractive to create a better user experience.
You can not just launch a business or services website, that offers great blog templates if you want to add a separate blog section on your site.
No coding experience is required to get the best out of this theme and if you're a beginner, Cleversoft can be a great option for your business.
Buyer's Guide – Best WordPress Themes for SaaS
I think these are enough options for you to choose the best WordPress theme for a SaaS website. I shared 7 best picks that I think are the best themes for businesses, services, and app websites.
Choosing an excellent one of these is not rocket science. I share mixed theme options with low-budget, mid-range, and a bit pricier themes. All of these are the best options available in the market for this purpose.
You can go for any one of these according to your budget. But if you want me to suggest a single WordPress theme for a SaaS website out of these 7, I would say Sassico Theme is a pretty decent option for this kind of site.
That's all for this guide, hope this was helpful to you in picking up the best WordPress theme for SaaS. If you've any questions, feel free to comment below. And make sure you Subscribe to my Newsletter, where I share valuable insights.