Do you wanna start blogging but don't know How to Start a Blog to Make Money, this guide is perfect for you. After reading this entire article you'll be able to start your own blog and generate a passive income from your home through Blogging.
First, most people start blogging just for the sake of earning money through blogging. I suggest you keep money the second priority in your journey.
First, you'll have to find out, Are you interested in blogging? Do you feel happy writing and spending time working on your blog? If you don't then you can drop this idea because it will be hard for you to find out the right way.
But if you're interested to start your own blog and passionate about it, I appreciate your decision. Follow these steps which we'll share in this guide.
This will not just help you start a blog today, it will motivate you that how easy it is to earn money online and make your career in the digital world.
So, If you're serious about it, you know that to start a blog, we need some resources i.g Hosting where we host our website's files. And Domain which is gonna be the name of our site.
NOTE: Please stay away from cheap hosting and domain they're not worth it. If you launch your blog on the worst and cheap hosting your blog won't load properly, and google won't rank it.
Overview: How to Start a Blog to Make Money
I'll walk you through each and every step practically. I'll share my experience with Blogging, How you can find a perfect Niche for you. How you can pick a domain name according to Your Niche. Which of the Hosting services is best for you?
How to launch your blog + Writing your first post. How you can pick a good and light theme for your blog and so much more… So, this will be the complete step-by-step guide on how to start a blog to actually make money.
Okay, now you know what we are gonna cover in this guide. Go get a cup of coffee, and let's move to our first step. But before that, let me tell you some of the advantages of Blogging to motivate you.
You can get a massive fan following through your blog.
If you're skilled then you can share your knowledge with others.
You can earn money by blogging. Yes, You can monetize your Blog by running Ads on your content or with Affiliate Marketing
Step 1: Niche Research
Finding a good Niche is really crucial part of starting a blog because if you won't work on a good Niche you can't reach your audience. You'll waste your writing and time. Niche is basically a topic that you want to write about. So, you'll have to find a good Niche first and then proceed to the next step.
First ask your mind, which topic you're interested in after finding some keywords like Sports, Traveling, Technology, News, etc… After finding a perfect and interesting keyword according to your interests, you can use Google Trends to explore that keyword.
Google Trends will help you to browse a specific keyword to know how many peoples are searching for this keyword. So, you can get the idea.
I'll recommend you choose a Niche or topic which is interesting and Trendy. I meant to pick a topic that is popular and the maximum number of people searching on that topic. Basically, you have to figure out which topic you can write for your audience.
These things you should consider in your Niche Research
Make sure your Niche has a good search volume
It should have sub-categories inside your Niche.
If there are good Affiliate Programs in that Niche, It'll be good for you
Can you write content on that Niche
Is there good enough information on that Niche on the internet
If your Niche is in these criteria then you can go with that Niche/Topic. If you're still confused to find a good Niche. Then you can take an idea from Similar Web If you go to this link there you'll find a lot of categories.
So, find those categories which are coming well on our criteria or on which you can write good content. And people are searching on that topic. So, you can get the idea from that.
Like if you can write on Technology, Traveling, Learning, etc… There are many successful blogs that are working on this kind of Niche.
Ex: TechRadar is a significant Blog based on Technology. There is SmartBlogger is an amazing example of a blogging Niche, they write about Blogging, SEO, and other learning topics. You can explore others to find a perfect and reliable Niche for your new Blog.
---
Step 2: Picking a Relevant Domain Name
Picking a good and reliable domain name is very important in SEO factors. If your domain is not referring to your Niche then it will be difficult for you to rank your website in google search results. Because of your domain, google judges your niche and ranks your website according to those keywords.
So, it will be very good if your niche keyword exists in your domain name. For Example: If your blog is Sports-related and your domain name is *www.sportshub.com* then Google will easily find the niche of your blog and rank on Sports related keywords which will be beneficial for you and your blog.
Your domain name should be easy to read, remember, and short, then people will recognize your domain and find your blog easily.
You have the basic introduction, of Domain names and which type, you should buy for your blog. When it comes to choosing a domain provider, Namecheap is my choice.
The thing I love about Namecheap is, the interface is super simple. You can easily access and manage your domains in one single place.
A domain name is a really important decision for you while creating your blog. One day your blog can become your brand and your name should be amazing and authoritative for your users. Users will use your domain name in search engines to access your content. So, make sure to pick a domain name appropriately.
I recommend you use a .com extension for your blog. If your target audience exists internationally then your domain name should have a .com extension. But if you are targeting your country you can use .us .in. .pk etc…
But most of the people are targeting worldwide you make sure your extension is .com and also don't use .info .biz etc… Keep your domain name short. Example:) aftabhassan.com
I usually see people pick their domain with many keywords like bestwordpresstutorials.com It looks really weird. It's won't look professional. So, make sure you use a short easy to remember domain name which will be very helpful for you.
For example aftabhassan.com We have used just two words in our domain name. There are many examples of big brands like TechCrunch, PCGamer, etc.
---
Step 3: Choosing a Reliable Web Hosting Service
Web hosting is a very crucial part of creating a blog this is where all our blog data will be stored. First, let's explore the basic concepts of web hosting.
If you buy hosting from any hosting provider you basically buy some space in their servers to store your files there. That's all you need to launch your blog.
Now, let's understand why quality hosting is necessary. Suppose a user comes to a specific page of your blog. That page definitely exists in your all blog files.
So, as soon as your user submits the query in their browser, the request will be sent to your hosting providers to provide that particular page. When hosting releases the page, it will appear in the user's browser.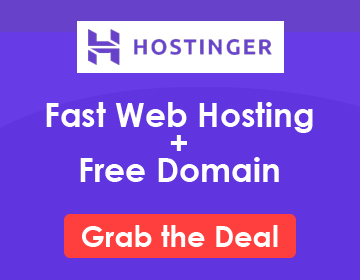 To make this process faster, we need to use good quality hosting so our users can browse fast on our website. And to make the user experience better.
If your hosting is cheap and crappy it will take too much time to find the page and send it to the user's browser which gives the worst user experience and you can lose max% of your audience.
Types of Web Hosting
There are different types of Hosting services that you can use. You can buy your dedicated server. This means you're buying a full dedicated space for your website. But this becomes so expansive for a beginner.
So, I would say, in the beginning, feel free to go for Shared Hosting. This is a server shared with a group of websites, yours will also be one of them. Because your new website won't have a lot of traffic and data. So the shared hosting will be good enough.
Now the question of which Web Hosting service would be the best to start a blog. I won't confuse you by mentioning tons of web Hosting services. I recommend to you what I use and the best in the business.
Hostinger offers the fastest WordPress hosting. Even if you go for a WordPress Starter plan, you'll still be able to load your website within a second. Not talking about other hosting services, Hostinger is the perfect choice to get started.
The best part is, you're gonna get a free domain for the first year. You'll have to pay for the domain from the next year. So get the hosting now and launch your blog today.
Now, we're moving towards a blog launching process. But for your ease, if you don't wanna create a blog yourself. You can hire a freelancer to create a blog or website for you. I've mentioned the top freelancers below, with the best ratings and reviews.
Step 4: Launching a Blog on WordPress
I'm assuming, you've got the Hosting ready. Click on the button above and claim a good discount on your purchase. I'm gonna show you now how to install WordPress on your Hosting and log in to your dashboard to start working on your blog.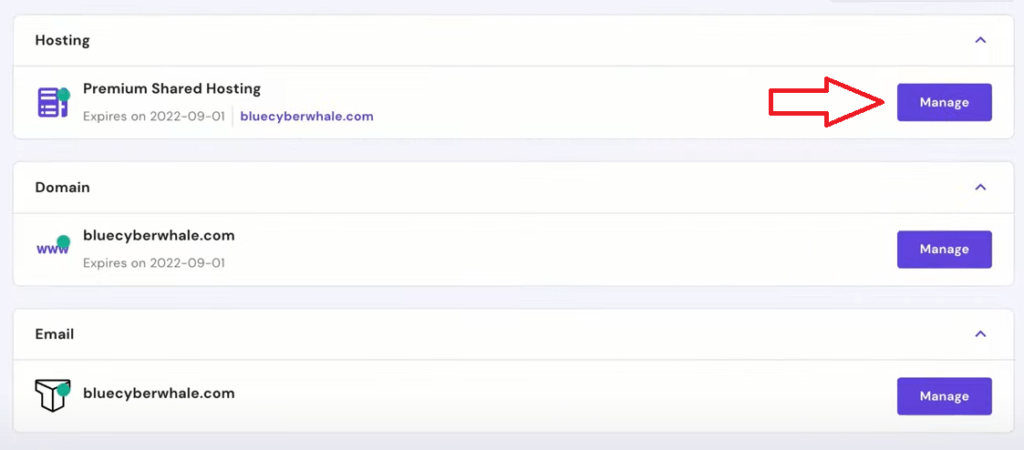 When you get the hosting from Hostinger, you'll see this screen, just click on the Manage button in front of your hosting plan. It will take you to the tools available in the H Panel of Hostinger.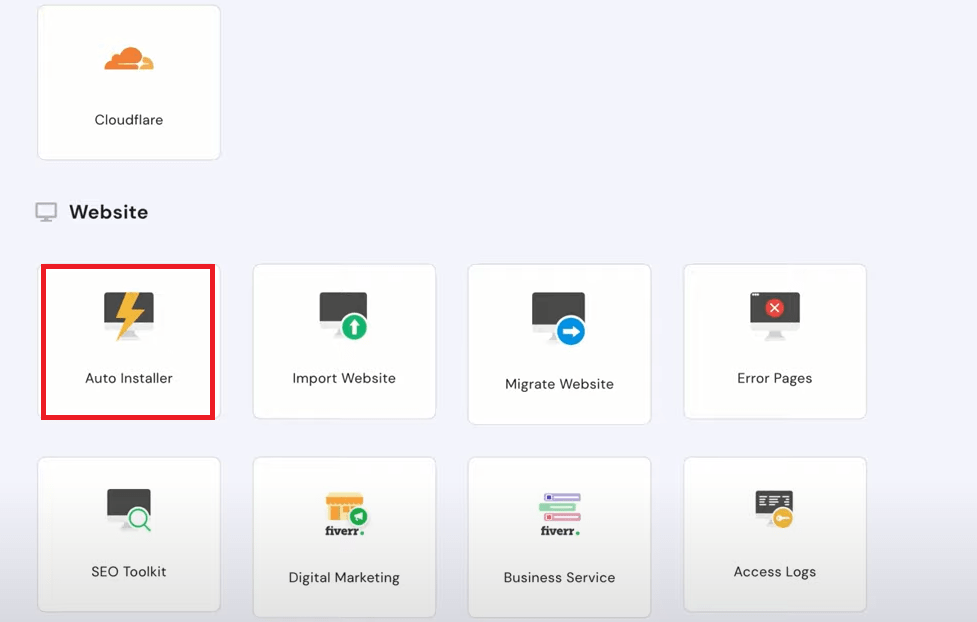 From the tools here, find the Auto-Installer, and click on it. This will take you to the next screen where you can install the apps.

Here you can install dozens of other apps, but we need WordPress which is a free and open-source website builder. Just select WordPress.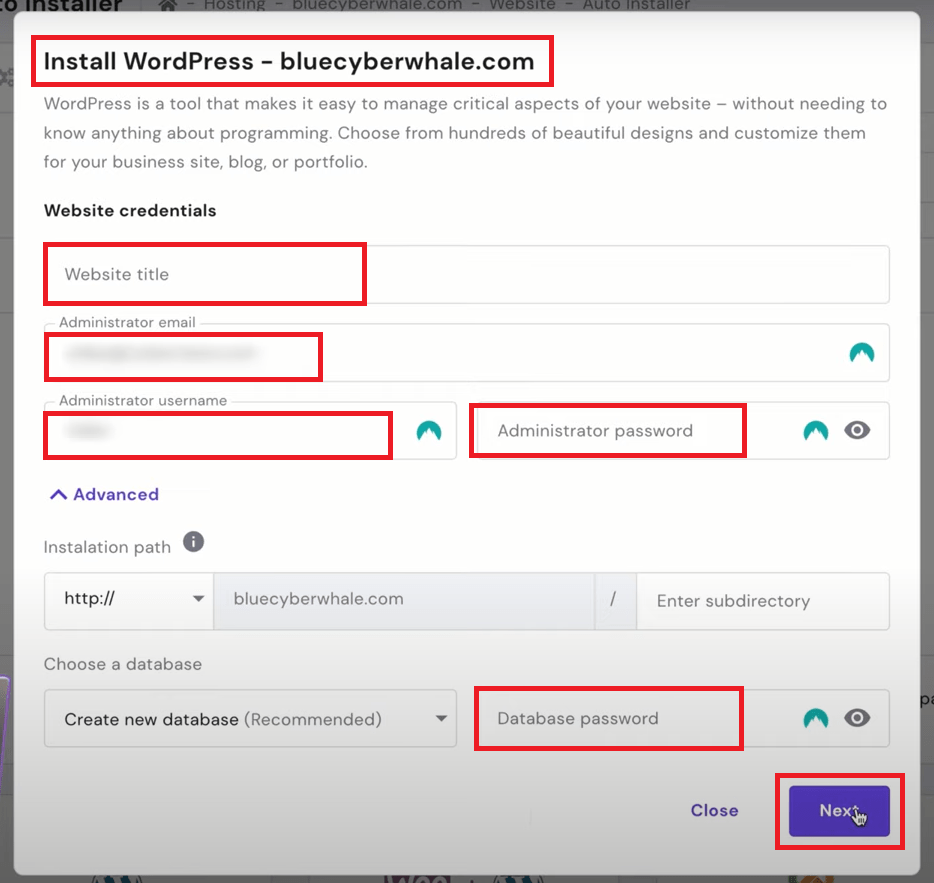 Just confirm the domain at the top, that you wanna install WordPress on. Fill up the other details below. Remember to save these details separately, you might need these later and click Next.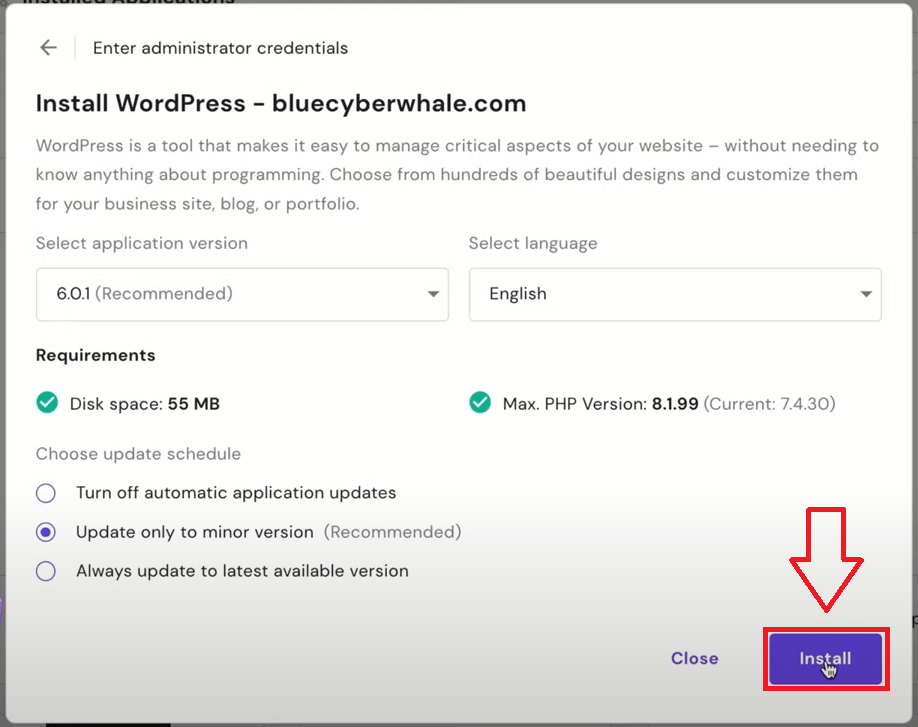 Here you can copy my settings, nothing special here and click Install. It will take about a minute and set up WordPress for you.
Done, you've to install WordPress on your hosting. Your website is up and Live on the internet. Just go back to the Hostinger dashboard and click on "Edit Website". Hostinger will redirect you to the WordPress dashboard where you can build and post on your blog.
Why you should choose WordPress?
WordPress is a Content Management System CMS. In simple words, you can manage your content in the form of blogs or websites like a layout. WordPress is the most popular CMS and is used by more than 60 million websites including 33.6% of the top 10 million websites as of April 2019.
It is easy to learn. You can update your content with amazing controls. Install new themes / Layouts quickly for your blog 1000s of plugins are available which can help you add more functionality to your website or blog.
There are many platforms on which you can build a website. But, they don't provide more flexibility like WordPress. Let's see some of the reasons why you should go with WordPress.
Easy to Learn & Use.
WordPress is absolutely free CMS.
There are many themes available in WordPress that you can use to make the layout of your blog more beautiful.
You can add any functionality to your Blog with amazing WordPress Plugins.
Everything is completely customizable.
And many of the popular blogs are on WordPress. Ex: SmartBlogger, TechRadar, ShoutMeLoud, and so on. I think these are enough reasons why you should choose WordPress.
Installing a New Theme + Important Suggestions
The theme is basically the look and feel of your website. It depends on you, and what type of look you want for your blog. There are 100s of free and paid themes available that you can use on your WordPress blog.
There are many factors that we consider choosing a good theme for our blog. The theme should be lightweight to load properly and fast. It should be simple and user-friendly. You have to make sure is it compatible with page builders + it also should be SEO-friendly.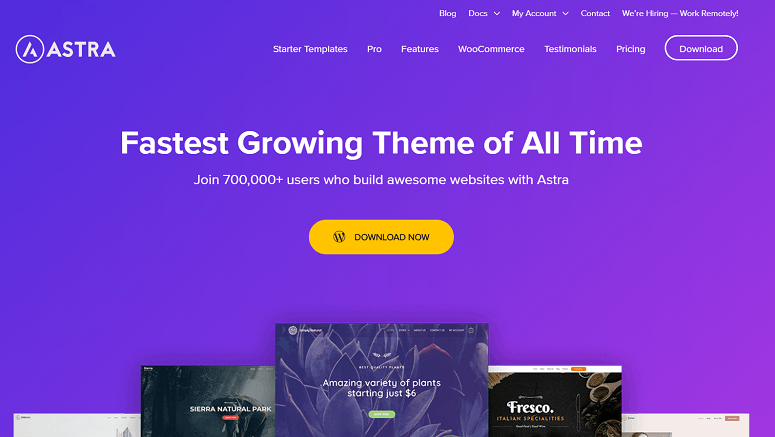 Astra Pro is a lightweight and minimal theme for your WordPress website. There is a free version available with limited features if you don't wanna spend on your theme. But the Pro version is insanely powerful and you can take your site to the next level. You can read our Astra Them Review to learn more about it.
How to Install a Theme?
There are many Best Free Themes that I will recommend to you like GeneratePress, Astra Theme, etc… OR you can decide on any theme later. In order to install a new theme, we'll go to the WordPress Themes section.
In the WordPress dashboard click on "Appearance" and "Themes" and click on "Add New it will take you to the Themes section of WordPress where you can choose free Themes.
So, here you'll see many free Themes that you can use. Just click on the Install button below them which you like and then click the "Activate" button at the same place. Your new theme will be installed.
Now, you will have to customize a theme according to your content. To customize your theme just go to "Appearance > Themes> Customize" This is where you can customize your theme and add your content. There are 1000s of themes and anyone has their own choice.
You should have some knowledge of WordPress if you wanna update and customize your WordPress Blog. But, Don't worry. There are many Tutorials on YouTube Just search "WordPress Tutorials" and you'll find a lot of videos on WordPress. But If you want me to suggest a Blog on this topic. Then I would recommend you WpBegginers specifically for WordPress Guides you can check it out. So, now we have installed a New Theme on our Blog.
Free or Paid Theme!
My suggestion is to use a minimal theme on your Blogs like Schema or Generate Press Theme. OR you can use other Paid Themes. There are many Premium themes in the Market like Newspaper Theme which are remarkable for News, Magazines.
But it is a little heavier that's why most Bloggers don't prefer that. Therefore there are a lot of Paid but light and minimal Themes out there like Genesis Framework, and Schema, Let me share with you some of my favorite Free and Paid Themes + Why you should choose one of those.
➜First, let me tell you some of the Best Paid Themes:
This was my personal suggestion on the best-Paid Themes. Now in the essential stages, it would be a little difficult for you to customize themes like Voice OR Astra, etc… So, that's why I recommend you to go with Schema or Generate Press Theme which is simple, modern, and easy to customize themes.
➜Now, Let's explore some of the Best Free Themes that you can use on your Blog:
Schema Lite: As I told you before the Schema theme has both versions Free and Paid. If you wanna use schema for free. You can go with its free version "Schema Lite". You get almost the same theme as a Premium. Only some advanced and extra features are missing which are not really necessary.
GeneratePress: Same goes for this theme you can install it and use it from WordPress Repository for free. But, If you want you can upgrade it to GP Premium. It is also a great Free theme.
Astra: Astra provides also a free version. It has many impressive features, Pre-Designed Templates, Page Builder Support, a Fully customizable design and so much more. I've personally used this theme and it gives supremely amazing results.
Newsgem: This is a pretty good magazine theme. You get a premium layout in it. So, If you're looking for free themes then this can also be a good option for you. It provides advanced custom fields, Custom Menus, Ads optimization, and more…
Or you can browse more themes on WordPress.org > Themes. So, you can more options. These were my recommendations. But you choose any theme you want. Okay, now let's jump to the next step.
Write Your First Blog Post
Here we have a truly important section of the article which is, How to Write your first Blog Post. This basically means an article. We have launched our blog to write good content on it. So, In WordPress, we call it Post. WordPress provides us with an Editor where we can manage our Posts, Add Images, Design our post layouts, and more…
In the WordPress dashboard, just hover over "Posts" and click on "Add New" So it will open a fresh WordPress Editor where you can write. This is a simple method of writing a post in WordPress.
Now there are many things to learn before posting on your blog. We optimize our posts according to the Search Engine so we can Rank in Google to get audience engagement. We'll talk about SEO in the next section of this article. You should learn the Entire WordPress posting process.
We can't cover it here. But it is really really simple and easy just go through the process which we saw before like just go to YouTube and watch some videos on "How to Post in WordPress" In just 30Mins you can learn this. After that comes the Off-Page optimization which is a little tricky. You can learn in a very short time if you take it seriously.
While writing a Post we target some keywords in our article to rank on those keywords. So make sure you must target keywords because if you don't have a goal you won't succeed.
Let's dive into a very interesting and most important section of this article.:
Why SEO is Important?
Search Engine Optimization (SEO) is supremely Important and the backbone of your writing. In SEO we optimize our content On & Off-Page according to search engines like Google.
We basically tell the search engine that these are the focus keywords that we want to rank on. We optimize images, text, and everything which is in our posts.
In your Blogging journey, you should be an expert in SEO because with SEO you rank your content in search results to get more traffic to your website, and of course when you grab passive traffic then you earn money from your Blog.
Here we'll cover some Basics of SEO, which will help you to set your goals of learning Search Engine Optimization. So, let's get started.
Basics of SEO:
There are three types of SEO that we are going to cover.
Technical SEO
On-Page SEO
Off-Page SEO
Technical SEO: This is a really simple and easy-to-implement form of SEO. There are many things that we can consider in Technical SEO. When you create a Blog, Google doesn't know your Blog. You have to ask google if it should crawl and index your Blog in its data.
Google provides us with a free tool called Google Search Console. Here we can manage some data. We submit our Blog as XML Sitemap in Search Console which makes it easy for Google to index our Blog and crawl our content.
We should have a robot.txt file on our Blog. Basically, this file is really important and helpful for Google. It tells Google which pages and Content google should crawl and which not. So, this is a simple concept of a robot.txt.
There are HTTPS. It means "Hypertext Transfer Protocol Secure" You basically install a certificate on your Blog to make your Blog's URL Http to HTTPS which is a secure protocol. If you do that, Google considers your website as a secure platform. If you don't use this, Google will mark your website as Not-Secure. When a user comes to your Blog and sees the Not Secure message, the user will bounce back. This is important to use HTTPS.
Ensure that your Blog / Website is Mobile-Friendly. It is a very important factor in SEO. It means that your Blog should look perfect on any device like PC, Laptop, Tablet, and Mobile. Nowadays, I think every theme comes with Mobile Friendliness. So, it is not that complex to make your Blog Mobile Friendly.
You should use a good Permalinks Struction. This is a simple URL that comes after the Blog name. Ex: https://www.aftabhassan.com/how-to-start-a-blog-to-make-money. Here you can see after the aftabhassan.com/ there is "how-to-start-a-blog-to-make-money" which is the title of this post. So, you have to use your post title in the URL of your post.
You can simply go to "Settings" > Permalinks and then click this option which is "Post Name". Done! Now when you'll write any post it will set the post name after the URL of your site which is good in SEO and helpful for google to find a topic of your site.
Monetizing a Blog to Earn Money
This is the much-awaiting section of every newbie. How can we earn money? This is a very interesting part of this article where we'll learn How can you Monetize your Blog to make money.
There are many ways to monetize your blog. Like you earn money from sponsorships when you get popular. You can make money by especially promoting other brands and many more. But 2 ways are getting most popular these days:
Google Adsense Monetization:
Adsense is the most popular platform to monetize a website or Blog. Millions of big websites are using Adsense to generate revenue like TechRadar. Advertising company pays Google Adsense to Place their Ads on our Blogs. If any Blogger wants to Place Ads on his Blog, He'll have to Sign Up on Google Adsense.
When we apply for Adsense, Google reviews our Blog manually and gives us Approval. After approval then we can place Adsense Ads on our Blog and earn money from Adsense.
So, You'll have to Get Adsense Approval to earn money. Don't worry. Most people think that getting Adsense Approval is really difficult. But it is not right. There are a few basic steps if you follow them you can easily get Adsense Approval.
Make a good-looking Blog.
Create 2 – 3 Pages.
Post at least 10 – 15 Posts
Your Blog age should be 1 month at least.
That's all you need to get Adsense Approval. Follow these steps. I ensure you'll get Adsense Approval on your first try.
Affiliate Marketing:
Affiliate Marketing is a very decent Program for Monetizing a Blog. You can earn almost double what you make with Adsense. The Simple concept of Affiliate Marketing is we promote other's products and get a commission. Now! here a question pops up, Whom product will we promote?
There are many platforms that offer an Affiliate Program. Ex: Amazon, eBay, ClickBank, Walmart, Bluehost, etc…
But nowadays Amazon is Supremely Popular in Affiliation. And minions of people are making millions of dollars by promoting Amazon Products on their Blog.
If you start Affiliate Marketing, You'll be promoting Amazon Products on your Blog. Basically In order to Start you have to Sign up for the Amazon Associate Program. After registering you will be able to get an Affiliate Link to Any Amazon Product.
You review any amazon product on your Blog and give the Affiliate Link of the Amazon Product to your Audience and if the user makes a purchase from your affiliate link you'll get a commission.
SEO is a must-earn money from Blogs. Ex: If your Affiliate Review is not ranking in search engines, the Product will not be sold and you won't get a commission. So, you'll have to rank your blog to earn money online.
Learn things gradually and be patient. You'll get good results. Now at the end of the article. I have some motivational stories for you. So, you can see their hard work and start getting an idea from them.
Good Luck!